Eng Title: Disney Art Academy
Developer: Nintendo
Publisher: Nintendo
Genre: PZL Game
Platform: 3DS
Size: 360MB
Format: 3DS
REGiON : USA
LANG : English
Release Date: Mar.13.2016 [US]
Homepage: NA

Description :
In the Disney Art Academy game, discover your inner artist to capture the stunning visuals of over 80 Disney and Pixar characters. With advice and lessons inspired by Disney art and Pixar animations, learn to use a bundle of different drawing tools to create Elsa and Olaf from Disney Frozen, characters from Disney Inside Out, Mickey Mouse, and more! Even share your creations with your friends!
Features:
Bring Disney and Pixar character artwork to life using a bundle of drawing tools, like paint brushes, markers, pastels, and more
Learn to draw with dozens of step-by-step lessons inspired from Disney art and Pixar animation
Give your art some flare with the new Magic Brush
"E" for Everyone
Screenshots: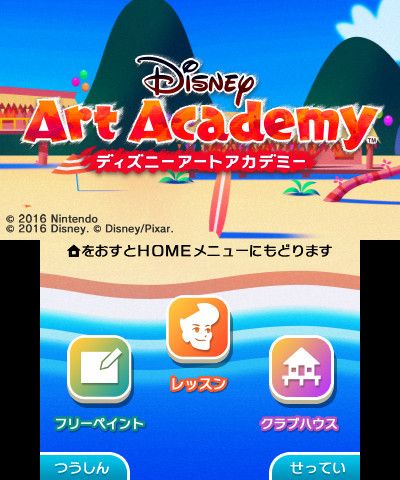 3DS Direct Download