Eng Title: Mass Effect 3 EBOOT PATCH 105 USA
Developer: BioWare
Publisher: Electronic Arts
Genre: RPG / ACT Game
Platform: PS3
Size: 11.54MB
Format: RAR(MFW 3.40+)
Region : USA
Lang : English
Realease Date: Sep.02.2012 [EBOOT Realease Date]
Homepage: http://masseffect.com/

Description :
In Mass Effect 3, an ancient alien race known only as Reapers, has launched an all-out invasion of the galaxy, leaving nothing but a trail of destruction in their wake. Earth has been taken, the galaxy is on the verge of total annihilation, and you are the only one who can stop them. The price of failure is extinction. You, as Commander Shepard, must lead the counter assault to take it back. Only you can determine how events will play out, which planets you will save from annihilation and which alliances you will form or abandon as you rally the forces of the galaxy to eliminate the Reaper threat once and for all.
Enter stage left Mass Effect's controversial Galaxy at War system, a sort of social metagame hub where your success in ME3's horde-based co-op multiplayer (and the Facebook games and apps) serves as a multiplier to your proficiency against the Reapers on the approach to the endgame. You're presented with the forces you've amassed, including characters such as Samara and contingents of Asari Commandos and Mindbenders, and encouraged to shuttle them between Reaper troublespots. It's a needless addition, but a forgivable one if it turns out to be fun. Shepard's adventures tend to consume body and soul, so being able to aid the war effort while on the bus has a certain allure.
Inside and out, Mass Effect 3 is laced with feelings of wartime chaos. As I stood in the BioWare writers' room I couldn't help but notice stirring Churchill quotations pinned above the door. Anything in the game that lacked urgency has been trimmed (goodbye mining), and wherever you fly you'll see charred space detritus or fleets of doomed warships. The final battle will soon be upon us, and the bodycount will be high. How high? That's down to you.
Installation Notes:
download and install the update pkg from the link below
https://a0.ww.np.dl.playstation.net/tpl/np/BLUS30853/BLUS30853-ver.xml
replace included files in /dev_hdd0/game/BLUS30853 directory.
tested on 3.55 MFW, but should work fine on 3.40+
if you like this game, go fucking buy it and support the REAL developers!
Screenshots: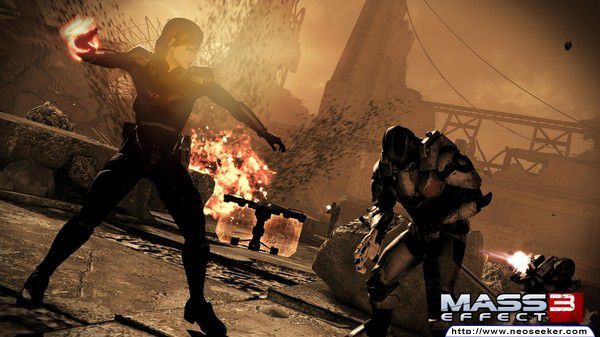 PS3 Direct Download