Eng Title: Persona 4: The Ultimate in Mayonaka Arena
Developer: Atlus
Publisher: Atlus
Genre: FTG Game
Platform: XBOX360
Size: 6.72GB
Format: XGD2(LT 2.0+/14719)
Region : USA(NTSC/U)
Lang : English
Realease Date: Aug.04.2012 [US]
Homepage: http://p-atlus.jp/p4u/
ABGX Verification: Here

Description :
Persona 4: The Ultimate in Mayonaka Arena is an fighting game slated for release in arcades as well as on the PS3 and Xbox 360. The game will feature characters from both Persona 3 and Persona 4 on the roster accompanied by their personas. It is being developed together by Atlus, the creators of the Persona series, and Arc System Works, whose fighting game credits include the Guilty Gear and BlazBlue series.
Story:
Two months after the events of Persona 4, Teddie suddenly disappears. A new rumor begins to spread across Inaba about a television program that appears if one looks into a turned off TV on a rainy night; a program by the name of "P-1 Grand Prix" where high school friends fight each other.
At the same time that this rumor starts, members of the Investigation Team start to go missing. The remaining members watch this program only to discover Teddie introducing the main characters as challengers of a tournament, but with catch phrases that they wouldn't normally say. The characters are surprised by this, so they decide to get together once more and enter the TV World to find out what happened to Teddie and what he is doing. However, while entering the Midnight Channel, something goes wrong and the characters who entered are separated and somehow brainwashed into fighting each other.
Given that the story takes place two months after the events of Persona 4, which ends on March 21st, 2012, P4U will most likely take place around May 21st, 2012. The story will also tell of how Aigis (who was originally in Persona 3) came to Inaba and how she became a participant in the P-1 Grand Prix.
Mitsuru, having become a university student and socialite since the events of Persona 3, visits Inaba after having a certain object stolen from her. Akihiko, having gone to college after graduating high school and then traveling the world in order to become a better fighter, receives an invitation from Mitsuru to join her in the tournament and returns to Japan.
The game's story mode will initially have four characters to choose from (Yu Narukami, Chie Satonaka, Yukiko Amagi and Yosuke Hanamura), with other characters being unlocked as the Story Mode is played through. It has been stated by the game's director Kazuhisa Wada, on the P4 Arena Official Blog, that Persona 4 Arena's story mode will be around 30 to 40 hours long.
Screenshots: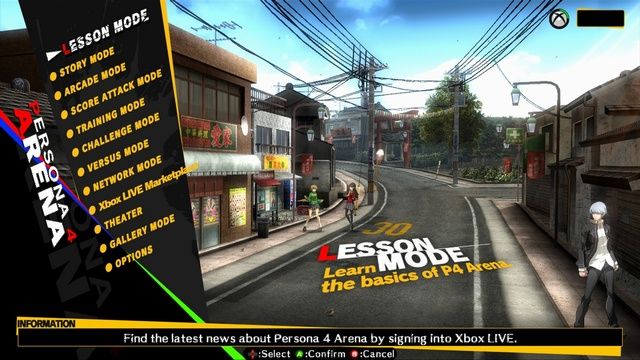 XBOX360 Direct Download